Charles William Shaver (1890-1961), Architect
From E Nebraska History
Salina, Kansas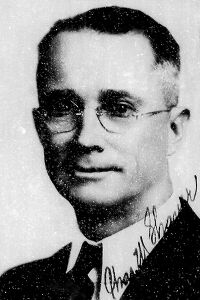 Also DBA: Shaver & Shaver
Charles William Shaver was born in 1890 and raised in Kansas, where he earned a degree in architecture. Notably, he was the first registered architect in Kansas. About 1947 his son, John A. Shaver joined him in practice as Shaver & Shaver. Together they are credited with the design of buildings in several Midwestern states, including Oklahoma, Missouri, Colorado, and Iowa. Not much is known about Shaver's personal life, except that he was married to Vera and had one son. Shaver died in 1961.[2][4]
This page is a contribution to the publication, Place Makers of Nebraska: The Architects. See the format and contents page for more information on the compilation and page organization.
Educational & Professional Associations
1908: graduate, Lincoln, Kansas High School.[1]
1915: Professional Architect Degree, Kansas State College, Manhattan, Kansas.[1][5]
ca. 1915-ca. 1947: architect, Salina, Kansas.[4]
1944: Registered Professional Architect, Nebraska, A-145; November 14, 1944.[1]
ca. 1947-1961: architect and partner, Shaver & Shaver, Architects, Salina, Kansas.[b]
1961-ca. 1973: successor firm, Shaver & Company, Architects, Salina, Kansas.[c]
Buildings & Projects
Notes
a. Application includes a three-page, partial list of buildings done by Shaver since his graduation in 1915; all in Kansas except one each in Iowa and Missouri.[1]
b. Partners, Charles William Shaver and son, John A. Shaver.[2]
c. John A. Shaver, Architect, Salina, Kansas.[2] John Shaver was registered in Nebraska on October 31, 1958, and his license expired on December 31, 2008; his license number was A-445.[3]
References
1. Application for Registration to Practice Professional Engineering and Architecture, Nebraska State Board of Examiners for Professional Engineers and Architects, October 3, 1944. Nebraska State Historical Society RG081 SG2.[a]
2. "Renowned Architect Remembered [John A. Shaver]," Salina Journal (November 24, 2010), online at Salina.com, http://www.saljournal.com/news/story/shaver-11-23-10 Accessed May 8, 2012.
3. Professional License Results for John A Shaver, State of Nebraska Board of Engineers and Architects website, http://www.ea.nebraska.gov/search/search.php?page=details&lic=A449 Accessed May 8, 2012.
4. 1920 United States Census, s.v. "Charles W. Shaver," Salina Ward 5, Saline County, Kansas, Accessed May 3, 2016. AncestryLibrary.com.
5. "John Alden Shaver (Architect)," (PCAD id: 5648) Pacific Coast Architecture Database (Alan Michelson, 2005-2015). Accessed May 7, 2016. http://pcad.lib.washington.edu/person/5648/

Return to Top of Page
Page Citation
D. Murphy, "Charles William Shaver (1890-1961), Architect," in David Murphy, Edward F. Zimmer, and Lynn Meyer, comps. Place Makers of Nebraska: The Architects. Lincoln: Nebraska State Historical Society, May 7, 2016. http://www.e-nebraskahistory.org/index.php?title=Place_Makers_of_Nebraska:_The_Architects Accessed, August 11, 2022.
Contact the Nebraska State Historic Preservation Office with questions or comments concerning this page, including any problems you may have with broken links (see, however, the Disclaimers link at the bottom of this page). Please provide the URL to this page with your inquiry.