William Beuttler (1883-1963), Architect
From E Nebraska History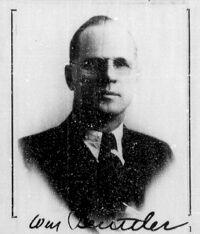 Sioux City, Iowa

William Beuttler (1883-1964) was born in Hannibal, Missouri, and finished public school there. He was first employed as a young man by a relative (possibly his father), G. Beuttler. His early experience included drafting, field survey work, and superintending. Beuttler took architectural courses at Washington University in St. Louis from 1909 to 1911, and moved to Sioux City shortly after his training was complete. He met his future partner, Ralph Arnold, when they were both employed by architect W.W. Beach in Sioux City. The firm of Beuttler & Arnold remained in operation until 1940.
Beuttler finished his career in Sioux City practicing on his own and, later, with his son, William Lee Beuttler.[1][5] He died on either April 20 or April 30, 1963.[3][4] He was a member of Iowa chapter and the national American Institute of Architects.
This page is a contribution to the publication, Place Makers of Nebraska: The Architects. See the format and contents page for more information on the compilation and page organization.
Educational & Professional Associations
____: Public School, Hannibal, Missouri [3]
1901-1903: draftsman, G. Beuttler, Architect-Builder.[3]
1903-1904: Dixon College, Dixon, Illinois.[3]
1904-1907: draftsman and rodman, City Engineers Office, Hannibal, Missouri.[3]
1907-1909: draftsman and building superintendent, C.B. & Q. R.R.[3]
1909-1911: student, Washington University, St. Louis, Missouri (C.E. Special in Architecture).[3]
1911-1912: with W.W. Beach, Sioux City, Iowa.[1][5]
1912-1940: Beuttler & Arnold, Sioux City, Iowa.[2][3][5]
1938: Registered Professional Architect, Nebraska, August 15, 1938, A-54.[3]
1940-1953: William Beuttler, Architect, Sioux City, Iowa.[1][5]
1953-1963: Beuttler & Son, Sioux City, Iowa.[1][5][a]
1963-1971: Succeeded by his son, William Lee Beuttler Architect & Associates.[b]
Other Associations
1950: employed Eugene A. Olson, architect.
Notes
a. The article about Beuttler's successor firm states that Beuttler's son joined the firm in 1953,[5] while the "Historic Federal Buildings" narrative gives 1958.[1]
b. See the "Firm Timeline," for a history of the successor firms to 2012.[5]
References
1. "Statement of Significance from National Register of Historic Places—inventory Nomination Form," in Historic Federal Buildings, U. S. General Services Administration (author and date uncredited), accessed February 7, 2003, http://w3.gsa.gov/web/p/interaia.nsf/cf0d4c7c0de34938852563d3004975f3/06d096155087dd478525672a00796628?OpenDocument
2. American Institute of Architects, comp., American Architects Directory First Ed. (New York: R. R. Bowker Co., 1956), 15 (Ralph Arnold), accessed March 3, 2010. http://communities.aia.org/sites/hdoaa/wiki/Wiki%20Pages/1956%20American%20Architects%20Directory.aspx
3. Application for Registration to Practice Professional Engineering and Architecture, Nebraska State Board of Examiners for Professional Engineers and Architects, December 15, 1937. Nebraska State Historical Society RG081 SG2.
4. The AIA Historical Directory of American Architects s.v. "Beuttler, William," accessed August 1, 2013, (ahd1003424), http://www.aia.org/about/history/aiab082017
5. "Firm Timeline," "Cannon Moss Brygger Architects celebrates 100 years," Sioux City Journal (August 27, 2012), accessed through Sioux City Journal.com on August 1, 2013, http://siouxcityjournal.com/advertorial/business_journal/cannon-moss-brygger-architects-celebrates-years/article_3537e8fb-d368-55d6-8b87-e95bfe80d713.html
Page Citation
D. Murphy, "William Beuttler (1883-1963), Architect," in David Murphy, Edward F. Zimmer, and Lynn Meyer, comps. Place Makers of Nebraska: The Architects. Lincoln: Nebraska State Historical Society, August 1, 2013. http://www.e-nebraskahistory.org/index.php?title=Place_Makers_of_Nebraska:_The_Architects Accessed, June 2, 2020.
Contact the Nebraska State Historic Preservation Office with questions or comments concerning this page, including any problems you may have with broken links (see, however, the Disclaimers link at the bottom of this page). Please provide the URL to this page with your inquiry.