Nebraska Historical Marker: Lincoln Aviation Personalities Before 1930
From E Nebraska History
[[Image:________|thumb|center|upright=3.0|alt=______]]
Location
Terminal, Lincoln Municipal Airport (LNK), Lincoln, Lancaster County, Nebraska
View this marker's location 40.847264, -96.75542
View a map of all Nebraska historical markers, Browse Historical Marker Map
Marker Text
Lincoln can boast of a colorful parade of fliers in aviation's formative decades: Joe and Bob Westover were mechanics for Ruth Law, pre-World War I aviatrix. The Nebraska National Guard produced Capt. Ralph McMillen, killed at a Kansas air show in 1916, and Lt. Edgar (Happy) Bagnell, WWI flier. In the 1920's Ray and Ethel Page operated the Lincoln Standard Aircraft Company, which included a factory and training school. Its barnstorming Aerial Pageant attracted talented pilots: Pete Hill, Earl Barnes, Eyer Sloniger, and Ira O. Biffle, Charles Lindbergh's flight instructor. Equally noted were parachutists and wing walkers Dick Hazelrig, Lt. Charles and Kathryn Hardin, Milo Siel, teenage Harlan Gurney, and Encil Chambers. Other Lincoln Standard personalities included John (Salty) Saltzman, head mechanic, and veteran of the NC flying boat Atlantic crossing; Ernest S. Sias, school administrator; Otto Timm, pilot and designer; and Nelson Gotshall, executive. Errol G. Bahl, Lark Monoplane designer, barnstormed the area. John (Augie) Pedlar, pilot in the Dole-sponsored California-Hawaii race of 1927, was lost in the Pacific. Page (1882-1933), a native of Friend, Nebraska, and his flying student Lindbergh stand out as major figures in Lincoln's early aviation years. Though Lincoln's promise as an aviation center faded and the industry centered elsewhere, memories of its intrepid aerial pioneers remain.
Further Information
Lincoln was the home for many notable aviators in the early days of aviation.
Ralph McMillen, Edgar (Happy) Bagnell and the Nebraska National Guard Signal Corps
Ralph McMillen was made a captain in the Nebraska National Guard Signal Corps (then the name of the aviation unit) in 1915. He served alongside the first captain of the Nebraska National Guard Signal Corps, Castle W. Schaffer. McMillen became a skilled aerial photographer and took pictures of the state capitol, state penitentiary and the university school of agriculture. A few months later, Cpt. Schaffer crashed near Julesburg, Colorado and gave up flying. He was replaced by Edgar W. Bagnell of McCool Junction.
McMillen made several flights around the state with other military squads and experimented with dropping bombs from his plane, using sacks of flour as bombs. He crashed and died while flying at an exhibition in St. Francis, Kansas on September 2, 1916. After McMillen's death, the Nebraska National Guard Signal Corps was disbanded. Bagnell went on to join the Army as part of the Signal Officers Reserve Corps.
Ray Page and the Lincoln Standard Aircraft Company
In the 1910s, the Nebraska Aircraft Corporation emerged as a top aircraft company in Nebraska. In 1921, the company fell behind on its loans. Rumors swirled that the owner had absconded with the company's funds to Mexico. Ray Page, manager of Nebraska Buick in Lincoln, bought the company in 1922 and changed its name to the Lincoln Standard Aircraft Company. He hired Otto Timm to be the company's chief engineer.
Page also ran Page Aerial Pageants, a company that organized air shows. Participants in the pageants included Eyer Sloniger, Encil Chambers, Earl Barnes, Charles and Kathryn Hardin, B.H. Griffin, Harlan "Bud" Gurney, Milo Siel, Dick Hazelrig and Pete Hill.
Page retired from the business in 1929 due to his health and sold the company to some Omaha investors. With the onset of the Great Depression, sales dropped and the company merged with American Eagle of Kansas City in 1931. The Lincoln factory was closed.
Page's Aerial Pageants
Earl Barnes
Earl Barnes was frequently the pilot when other performers in the Pageants performed parachute tricks. Charles Lindbergh made his first parachute jump off a plane piloted by Barnes.
Eyer "Slonnie" Sloniger
Eyer "Slonnie" Sloniger was one of the star pilots of the Pageants. He trained in Texas and served in France during World War I. After the war, he returned to Lincoln. He attended the university and flew in his free time. His father bought him his own plane in 1919. Shortly thereafter, he was hired by Ray Page as a test pilot, salesman and stunt pilot. Later, he replaced Charles Lindbergh as an employee with the Robertson Aircraft Corporation, an airmail company and flying school. In 1927, Sloniger nearly agreed to attempt a flight from California to Hawaii to win a prize offered by pineapple tycoon James Dole. He and his friend Augie Pedlar flipped a coin to see who would attempt the race. Augie won. His plane disappeared over the Pacific Ocean and was never seen again. Sloniger's wife kept the coin they flipped as a bracelet since she felt it saved her husband's life.
In 1929, he helped start an airmail service in China. After that, he became the chief pilot for American Airlines and worked on publicity with the likes of Gene Autry and Howard Hughes. During World War II, he flew transport planes for the Army. He crossed the Atlantic 88 times during the war.
Charles and Kathryn Hardin
Charles Hardin was a parachute instructor at the Fort Omaha balloon school during World War I. His wife Kathryn was billed as a parachute performer, but according to Harlan "Bud" Gurney, she never actually performed.
Harlan "Bud" Gurney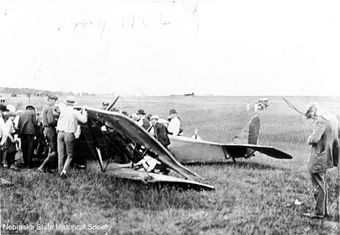 A Lincoln native, Harlan "Bud" Gurney first became interested in flying at the age of 11 when he saw Ralph McMillen fly at the Nebraska State Fair. When he was 16, he began to work at Lincoln Standard Aircraft's flying school. While working there, he became friends with Charles Lindbergh, who also worked at the school. They remained lifelong friends. After performing in Page's Pageants, he worked as an airmail pilot for Robertson Aircraft Corporation. Later he became a captain for United Airlines. He retired to California in 1965 and died in 1982. In letters written to the Nebraska State Historical Society, he describes the early days of Lincoln aviation and his experiences with Page's Aerial Pageants.
Charles Lindbergh
Charles Lindbergh arrived in Lincoln by motorcycle on April 1, 1922, to attend the Lincoln Standard Aircraft Company's flight school. His flight instructor was I. O. Biffle. Discouraged by the recent death of a friend, Biffle often showed up to lessons late or canceled them due to wind. Still, Lindbergh received his first flight training from Biffle while in Lincoln. After a month of training, Biffle decided Lindbergh could fly on his own. Lindbergh didn't yet have to money to fly solo, so he stayed in Lincoln for a year working for Lincoln Standard Aircraft as a crew member and performer. He left Lincoln in 1923 to fly solo and gained fame in 1927 for completing the first trans-Atlantic flight.
E. J. Sias and the Lincoln Airplane and Flying School
In 1918, E. J. Sias helped start an auto and tractor school. In 1929, he bought the flying school share of Ray Page's Lincoln Standard Aircraft and renamed his school the Lincoln Auto and Airplane School, later renamed the Lincoln Airplane and Flying School. The mechanics division of the school was located at 24th and O while flight training was held at the Municipal Airport until 1939, when it was moved to Union Airport. In 1939, the school was selected to give primary training to army cadets, but bad weather that year forced the Army to move. The business still surged during the war, but customers dropped off after 1945. That year, Sias retired and closed the school.
Errold Bahl
Errold Bahl began his career as a barnstormer in 1919. He flew around the state with Brooks Harding and Abe Zook. That same year, the three men established a plane repair shop in Lincoln. Bahl designed his own plane, the Lark. Unique for its day, it had only one wing. It was billed as "the lightest plane in the world." The three men created a company, called Harding, Zook, and Bahl, to sell their planes. The Lark sold for only $2,000, which is about $24,000 in today's money. Unfortunately, their business was eclipsed by Ray Page's Lincoln Standard Aircraft.
Bibliography
Goeres, Vince. Wings Over Nebraska: Historic Aviation Photographs. Lincoln: Nebraska State Historical Society Books. 2010.
Marker program
See Nebraska Historical Marker Program for more information.