George Bernard Larson (1891-1956), Architect
From E Nebraska History
Omaha, Nebraska, 1938-1954; and Council Bluffs, Iowa, 1914-1955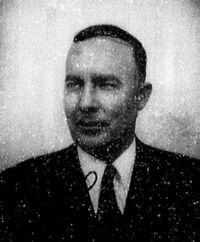 George Bernard Larson was born May 31, 1891. He arrived in Council Bluffs in 1914, having left behind a job as a draftsman in Boston. Larson worked as an architect for most of his career in Council Bluffs and Omaha. He did November 14, 1956 at the age of 65.[1][2][3]
This page is a contribution to the publication, Place Makers of Nebraska: The Architects. See the format and contents page for more information on the compilation and page organization.
Compiled Nebraska Directory Listings
Omaha, Nebraska, 1938-1941
Council Bluffs, Iowa, 1944-1955
Educational & Professional Associations
1905-1906: student, Mayville High School, Mayville, North Dakota.[3]
1906-1908: student, Fargo High School, Fargo, North Dakota.[3]
1908-1910: student, Armour Institute, Chicago, Illinois.[3]
1910-1912: student, Columbia University, New York, New York.[3]
1912-1913: draftsman, J. W. Chapman, Architect, New York, New York.[3]
1913-1914: draftsman, Putnam & Cox, Architects, Boston, Massachusetts.[3]
1914-1935: architect and partner in charge, J. Christopher Jensen, Council Bluffs, Iowa.[3]
1927: Registered Professional Architect, Iowa, July 1, 1927, #43.[3]
1938: Registered Professional Architect, Nebraska, January 25, 1938, A-13.[3]
1939-1954: architect, Omaha, Nebraska.
Buildings & Projects
Two Power Houses (1935-1936), Loup River Public Power District, Columbus, Nebraska.[3]
Notes
References
1. AIA Historical Directory of American Architects: A Resource Guide to Finding Information About Past Architects, accessed May 25, 2010, http://communities.aia.org/sites/hdoaa/wiki/Wiki%20Pages/ahd1025660.aspx
2. "Larson," Omaha World Herald (November 18,1956), 15D:4.
3. Application for Registration to Practice Professional Engineering and Architecture, Nebraska State Board of Examiners for Professional Engineers and Architects, December 14, 1937. Nebraska State Historical Society RG081 SG2.

Return to Top of Page
Page Citation
D. Murphy, "George Bernard Larson (1891-1956), Architect," in David Murphy, Edward F. Zimmer, and Lynn Meyer, comps. Place Makers of Nebraska: The Architects. Lincoln: Nebraska State Historical Society, February 9, 2015. http://www.e-nebraskahistory.org/index.php?title=Place_Makers_of_Nebraska:_The_Architects Accessed, April 20, 2021.
Contact the Nebraska State Historic Preservation Office with questions or comments concerning this page, including any problems you may have with broken links (see, however, the Disclaimers link at the bottom of this page). Please provide the URL to this page with your inquiry.