Erik C. F. Jensen, Architect
From E Nebraska History
Lincoln, Nebraska, 1954-1959, Viborg, Denmark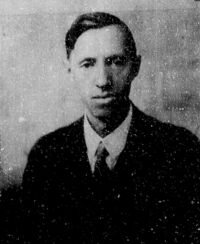 This page is a contribution to the publication, Place Makers of Nebraska: The Architects. See the format and contents page for more information on the compilation and page organization.
Compiled Nebraska Directory Listings
Lincoln, Nebraska, 1954-1959
Educational & Professional Associations
1954: Registered Professional Architect, Nebraska, A-302; July 17, 1954.[1][a]
1963: License expired December 31, 1963.[1]
_____: Viborg, Denmark.[1]
Buildings & Projects
Notes
a. Taught senior design in architecture at NU (Von Inness, personal communication, May 28, 2013).
References
1. State of Nebraska Board of Engineers and Architects website, Professional license results for Erik C. F. Jensen: http://www.ea.ne.gov/search/search.php?page=details&lic=A302 Accessed November 26, 2013.
Page Citation
D. Murphy, "Erik C. F. Jensen, Architect," in David Murphy, Edward F. Zimmer, and Lynn Meyer, comps. Place Makers of Nebraska: The Architects. Lincoln: Nebraska State Historical Society, January 27, 2015. http://www.e-nebraskahistory.org/index.php?title=Place_Makers_of_Nebraska:_The_Architects Accessed, September 24, 2023.

Contact the Nebraska State Historic Preservation Office with questions or comments concerning this page, including any problems you may have with broken links (see, however, the Disclaimers link at the bottom of this page). Please provide the URL to this page with your inquiry.