Dale Elbert Mitchell (1915-1964), Architect
From E Nebraska History
Missouri; Nebraska; Massachusetts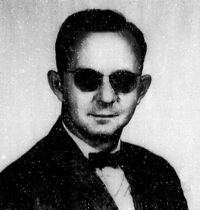 Dale Elbert Mitchell was born December 27, 1915. He spent his entire educational career in Missouri, then worked for the federal and state governments as an engineer. Moving to Nebraska, Mitchell worked as a draftsman and an architect for the U.S. Air Force. Following his work in the Air Force, he briefly moved to Cambridge, Massachusetts before returning to Omaha. Mitchell died August 26, 1964.[1]
This page is a contribution to the publication, Place Makers of Nebraska: The Architects. See the format and contents page for more information on the compilation and page organization.
Compiled Nebraska Directory Listings
Ralston, Nebraska, 1963
Educational & Professional Associations
1921-1929: Jerico Public School, Jerico Springs, Missouri.[1]
1929-1933: Jerico High School, Jerico Springs, Missouri.[1]
1934-1935: University of Missouri, Columbia, Missouri.[1]
1938-1941: assistant area engineer, Federal Works Agency, County-wide Engineering Office, construction of roads, culverts, and bridges, Nevada, Missouri.[1]
1941-1942: engineering aid, Missouri State Highway Department, Springfield, Missouri.[1]
1942-1943: architectural draftsman, Archer and Archer, Architects-Engineers, Kahoka, Missouri.[1]
1943-1947: chief draftsman, Army Air Force, McCook, Nebraska.[1]
1947-1949: architectural draftsman, U.S. Air Force, Kearney, Nebraska.[1]
1949-1953: architect design, U.S. Air Force, D/Engineering, Architecture Branch, Headquarters, S.A.C.[1]
1953-19__: chief of design section, Architect Design, U.S. Air Force, D/Engineering, Architecture Branch, Headquarters, S.A.C.[1]
1955: Architecture Acoustics, Massachusetts Institute of Technology, Cambridge, Massachusetts.[1]
1959: Engineering refresher, University of Omaha, Omaha, Nebraska.[1]
1960: Applied for Registration to Practice Architecture, rejected.[1]
Buildings & Projects
Notes
References
1. Application for Registration to Practice Professional Engineering and Architecture, Nebraska State Board of Examiners for Professional Engineers and Architects, September 12, 1960. Nebraska State Historical Society RG081 SG2.
Page Citation
D. Murphy, "Dale Elbert Mitchell (1915-1964), Architect," in David Murphy, Edward F. Zimmer, and Lynn Meyer, comps. Place Makers of Nebraska: The Architects. Lincoln: Nebraska State Historical Society, December 18, 2018. http://www.e-nebraskahistory.org/index.php?title=Place_Makers_of_Nebraska:_The_Architects Accessed, August 13, 2022.
Contact the Nebraska State Historic Preservation Office with questions or comments concerning this page, including any problems you may have with broken links (see, however, the Disclaimers link at the bottom of this page). Please provide the URL to this page with your inquiry.