Alan McDonald (1891-1947), Architect
From E Nebraska History
Omaha, Nebraska, 1916-1945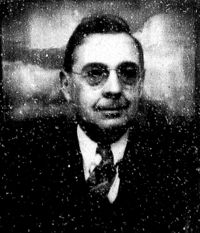 Alan McDonald was born August 26, 1891, the only child and son of John "Jack" and Martha McDonald. He spent his undergrad and graduate school years at Harvard, after a year-long stint at the University of Nebraska. Once his education was completed, McDonald worked for his father, then became a partner in the firm of John & Alan McDonald, Architects in 1918. Alan is credited with adding a new sense of aesthetic to the firm's designs that took them "to the next level."[8:88] He was married to Helen Scobie in September 1917 in the First Unitarian Church he built. They had two sons, Donald and Wallace. The family lived in the home Alan built, and the boys attended Benson High School, which the McDonald firm had also built. Alan and Helen's two sons gave them 7 grandchildren in total.[8:83-85] He was the first president of the Nebraska chapter of the American Institute of Architects.[8:86] He made valuable contributions to the McDonald firm until it ended at the time of his death on December 12, 1947.[4][5]
This page is a contribution to the publication, Place Makers of Nebraska: The Architects. See the format and contents page for more information on the compilation and page organization.
Compiled Nebraska Directory Listings
Omaha, Nebraska, 1916-1920, 1938-1947
Educational & Professional Associations
1896-1904: student, Park School, Omaha, Nebraska.[5][a]
1904-1908: student, Omaha Central High School, Omaha, Nebraska.[5][8]
1908-1909: student, University of Nebraska.[5][8]
1909-1912: student, Harvard College, Cambridge, Massachusetts.[5][8]
1913-1915: Master of Architecture, Harvard University School of Architecture, Cambridge, Massachusetts.[5][8]
1912-1917: draftsman, John McDonald, Architect.[5]
1917-1945: partner, John & Alan McDonald, Architects.[5][b]
1924-1947: president, Omaha Community Playhouse board of directors.[8:86]
1925-1927: president, Nebraska chapter of American Institute of Architects.[7]
1934-1937: chairman, Omaha Chamber of Commerce Industrial Bureau.[8:86]
1937-1939: chairman, Municipal Affairs Committee, Omaha, Nebraska.[8:86]
1938: Registered Professional Architect, Nebraska, January 25, 1938, A-15.[5]
Principal Works
Alan McDonald's career was spent in partnership with his father, so most of his work is credited to the firm of John & Alan McDonald. Nevertheless, some buildings are principally Alan's work, or he has been credited with their design. These are listed below. See the John & Alan McDonald, Architects entry for more buildings and projects.
Spencer Carnegie Library (1915-1916), NE corner Main & West, Spencer, Nebraska.[2][8:86] (BD08-038)
Franklin Carnegie Library (1915-1916), 1401 L, Franklin, Nebraska.[8:86] (FR03-046)
First Unitarian Church (1917-1918), 3114 Harney, Omaha, Nebraska.[1]
Lexington Carnegie Library (1918-1919), Lexington, Nebraska.[8:86]
Alan & Helen McDonald House (1920), 509 N. 38th St., Omaha, Nebraska.[3][8:40][9] (DO09:0323-014)
Community Theatre Building (1928), 40th & Davenport St., Omaha, Nebraska.[8:88]
Joslyn Memorial Art Museum (1931), 2201 Dodge St., Omaha, Nebraska; on behalf of John & Alan McDonald, Architects.[6][c] (DO09:0126-007)
Honors & Awards
Harvard School Medal of the American Institute of Architects for General Excellence in Architecture [8:86]
Notes
a. First Omaha directory listing, 1896.
b. Last Omaha directory listing, 1945.
c. Credited with the design of the building.[6]
References
1. "Omaha Has 80,000 Church Members: Where Many of them Worship," Omaha Sunday World Herald (November 12, 1922), 2-1.
2. Nebraska State Library Commission, Architect and Building Card File.
3. City of Omaha Planning Department, Landmarks Heritage Preservation Commission, Database, Query on Architects, May 20, 2002; courtesy of Lynn Meyer, Preservation Planner.
4. AIA Historical Directory of American Architects: A Resource Guide to Finding Information About Past Architects, accessed June 1, 2010, http://communities.aia.org/sites/hdoaa/wiki/Wiki%20Pages/ahd1029341.aspx
5. Application for Registration to Practice Professional Engineering and Architecture, Nebraska State Board of Examiners for Professional Engineers and Architects, December 30, 1937. Nebraska State Historical Society RG081 SG2.
6. Erin Grace, "Homeowners Cherish and Preserve Their Link to Omaha's Past," Omaha World Herald (January 28, 2014), 1B-2B.
7. "McDonald, Alan," Who's Who in Nebraska. Lincoln: Nebraska Press Association (1940), 357.
8. Joan M. Fogarty, Building Omaha: The Architectural Legacy of John and Alan McDonald (Omaha: Elman Printing Company, 2013).
9. Meyer Collection; Omaha City Planning Department, 1980.
Other Sources
Entry in Henry F. Withey, A.I.A., and Elsie Rathburn Withey, Biographical Dictionary of American Architects (Deceased) (Los Angeles: New Age Publishing Company, 1956. Facsimile edition, Hennessey & Ingalls, Inc., 1970)
Page Citation
D. Murphy, "Alan McDonald (1891-1947), Architect," in David Murphy, Edward F. Zimmer, and Lynn Meyer, comps. Place Makers of Nebraska: The Architects. Lincoln: Nebraska State Historical Society, February 26, 2015. http://www.e-nebraskahistory.org/index.php?title=Place_Makers_of_Nebraska:_The_Architects Accessed, August 11, 2022.}
Contact the Nebraska State Historic Preservation Office with questions or comments concerning this page, including any problems you may have with broken links (see, however, the Disclaimers link at the bottom of this page). Please provide the URL to this page with your inquiry.